Suunto D6 Elastomer Luxury Sport Wrist Watch Diving Barometer Computer
Suunto D6 Elastomer Luxury Sport Wrist Watch Diving Barometer Computer
Your Price:
$738.00
(You save

$142.00

)
---
Product Description
BRAND NEW Suunto D6 Elastomer Luxury Sport Wrist Watch Diving Barometer Computer
Find your bearings with the advanced, gas-switching Suunto D6
Suunto D6 is an advanced wristop dive computer designed for demanding divers. The three operating modes, gas-switching functionality, integrated digital compass, and the Suunto RGBM deep stop algorithm combine to make it one of the most feature-rich and versatile dive computers available.

All the information you need relating to depth, time, direction, and decompression status is now available on one clear wristop display.

In addition to having mode-specific information available to you at all times, your Suunto D6 records and stores data for later analysis. You can view, compare, and analyze your diving performance through the downloadable Suunto Dive Manager PC software.

Designed to be both a trusted underwater companion and a stylish watch on land, Suunto D6 is available with metallic bracelet or black wrist strap
Features:
Air, Nitrox and Gauge modes

Gas switching (2 mixes 21-99%)

Complete decompression stop data

Multi-step ascent rate indicator

Integrated digital compass

Extensive memory functions

Adjustable Suunto RGBM model

Audible alarms (including maximum depth alarm)

Optional PC-interface

black wrist strap
Specifications
Chronograph

Compass

Graphic compass rose

Guided calibration

Heading in degrees

Declination setting

Cardinal directions

Bearing tracking

Diving

Log book memory

Personal adjustments

Suunto RGBM decompression model

Safety stop

Temperature display

Deep stops

Dive time in seconds

Operation mode Nitrox

Profile sampling rates in seconds

Dive planner

Operation mode Watch

Operation mode Gauge

Altitude adjustment

Consumed bottom time graph

Ascent rate monitor/alarm

Ascent time display

Audible alarm

Compass

Full decompression data

Lifetime history memory

Maximum depth alarm

Maximum depth display

Operation mode Air

Nitrox

Yes

Yes

Yes

Yes

Yes

Yes

In Gauge Mode

Yes

1,10,20,30,60s

Yes

Yes

Yes

Yes

Yes

Yes

Up to 99 Min

Yes

Yes

Yes

Yes

Yes

150m / 492ft

Yes

CNS% + OTU calculation (OLF)

Gas switching during dive

Max PO2 adjustment

O2 % setting

Other

Yes

Yes

0.5-1.6

Up to 2 gases containing 21-99%

Operating temperature

Water resistance

Storage temperature

Selectable metric/imperial units

Mineral crystal glass

Menu-based user interface

Dot-matrix display

Backlight type

Adjustable backlight duration

PC Software

0°C - +40°C/32°F - +104°F

1150m / 492ft

-20°C - +50°C/-4°F - +122°

Yes

Yes

Yes

Yes

Elctro luminescent Display

Yes

Power

Battery Power Indicator

Low Battery Warning

Watch

12/24h

Calendar clock

Dual time

Daily alarms
---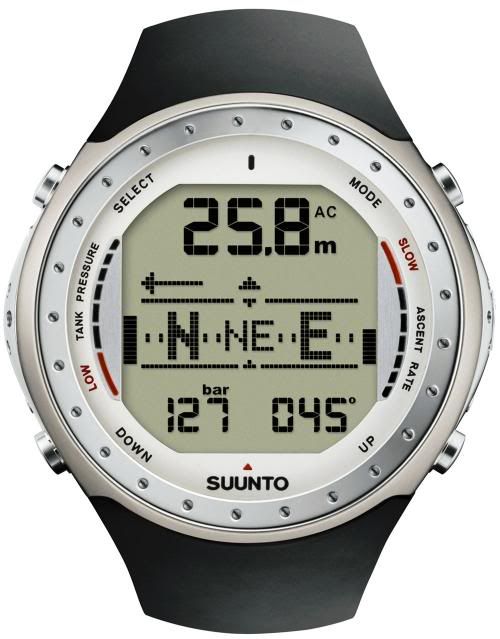 Please note that my default shipping is standard flat rate shipping and it takes up to 14 business days to deliver. If you wish, you may request expedited shipping at an additional cost. Please turn to the shipping section of the listing for this option.

Shipping costs do not include duty taxes. You might be charged an additional duty charge upon receipt of your package based on your country's rates. We urge our customers to check these costs before purchasing the item.

Feel free to ask questions via email. Answers will be given within 24 hours.
Thank you.
Find Similar Products by Category
Customers Who Viewed This Product Also Viewed