Features:
Especially designed VIPs

- External Bulletproof Vest
Made by an official supplier for the Israeli army -

Hagor Industries

.
Available in a variety of

Sizes

- From Size S all the way to Size 5XL. Please contact us if you are unsure about the size you need with your height and weight.
Comes with a

Carrying Bag

.
Specially made

Compartments

provide the ability to add armor plates for better protection. Please contact us via email if you are interested in upgrading the protection.

5 years Warranty
Hagor Industries has 40 years of experience and working together with the Israeli Defense Forces (IDF) have made us a leading maker of body armors and bullet proof vests. Our unique fragmentation and bulletproof vests have been combat proven under the harshest conditions and provide utmost protection while allowing easy maneuvering and mobility. Our Research & Development department specializes in developing and engineering body armor fragmentation and bullet resistant vests, to suit every mission and assignment.
Body Armor Size Chart
Vest Weight

Vest Length

Waist Width

Chest Width

Size

5,3 lbs
2,4 kg

16"
41 cm

18"
46 cm

14,5-19 "
37-49cm

M

5,7 lbs
2,6 kg

17"
43 cm
18"
46 cm

14,5-19 "
37-49 cm

L

6,1 lbs
2,8 kg

18"
46 cm

18"
46 cm

14,5-19 "
37-49 cm

XL

7 lbs
3,2 kg

20"
51 cm
20"
51 cm

19-21 "
49-53 cm

XXL

7,5 lbs
3,4kg
21"
53 cm
21"
53 cm

21-22,5 "
53-57 cm

XXXL

7,9 lbs
3,6 kg
22"
56 cm
22"
56 cm

22,5-24 "
57-61 cm

4XL
Technical specification - Bulletproof Vest

Ballistic area

Front =

0.42m

2




Back =

0.35m

2

Basic protection

level III (3) NIJ
stops: 9

mm

+ Magnum or protect from ricochet, 5.56 (M-16), 7.62 (AK 47), 308 Winchester.

Weight

Approximately 2.5

kg

without plates

Sizes

S, M, L, XL, XXL. The vest enables adjusting the sizes in accordance with the user. If you don't know or not sure about the size you need, please contact us by email with your height and weight and we will advise on the optimal size.


Please note that Sizes 4XL and 5XL will require extra charge.

External material

Cordura by Du Pont

Colors

Black

Use

Army, Civilian and Security Guard
Resistance Chart NIJ 0101.04
click image to enlarge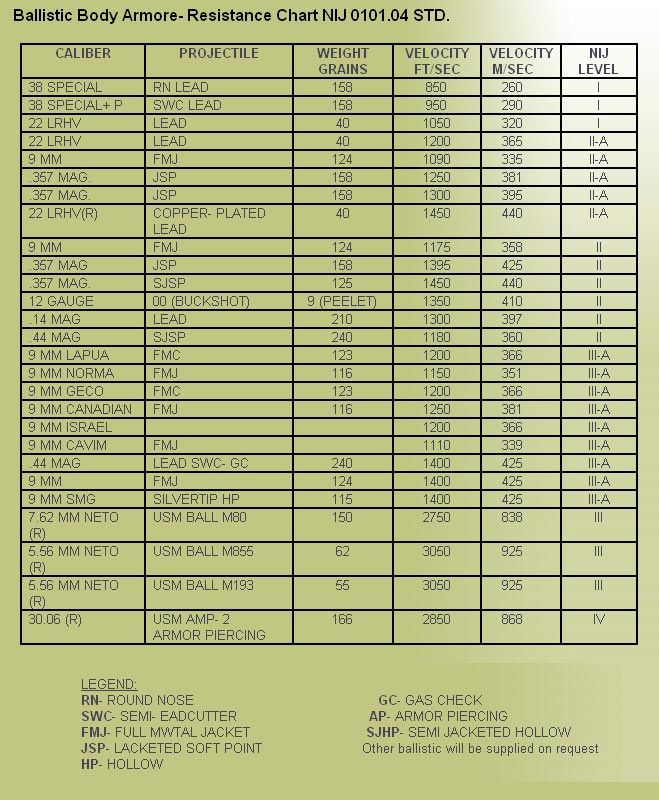 Certificate Of Compliance
click image to enlarge